Jeffrey Chand
Jeffrey Chand, RAc. (Dipl.TCM) is a Registered Acupuncturist and has been in practice since 2000. He is a licensed member of the College of Traditional Chinese Medicine Practitioners and Acupuncturists of BC (CTCMA).
Jeff's interest and approach to health comes naturally as he was exposed to eastern philosophy from a young age though years of study in Tai Chi, martial arts, and Qi Gong. Jeff was born and raised in Edmonton, Alberta and began his education at the University of Northern BC where he studied general biology, ethnobotany, plant biology and chemistry. During this time he furthered his study of Qi Gong focusing on the medical applications in the treatment of chronic illness and preventive health.
He studied at the International College of Traditional Chinese Medicine and completed a four year Diploma in Traditional Chinese Medicine in 2000. He then traveled to Taiwan where he worked in a traditional hospital where he furthered his study of acupuncture and worked with some very high level Qi Gong masters. There he was able to view a truly integrative medical system first hand.
Through this experience Jeff was inspired to shift his own approach to health care. He wants people to feel empowered to take a proactive approach to their health and well being. As part of treatment Jeff provides people with health information and 'tools' they can use in their own daily lives.
Outside of the clinic, Jeff has been helping people to improve their health through Qi Gong workshops and health-related lectures. He believes in sharing the concepts of TCM and has taught continuing education courses to other health professionals. He is known for his comprehensive knowledge and ability to inspire and encourage patients.
In his spare time Jeff loves all sports, is an avid runner and completed a 250 km ultra-marathon race across the Sahara Desert through an international event called 'Racing the Planet.' When there is no one in close proximity Jeff has been known to play the guitar, violin, and piano!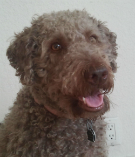 Penny Chand
Official Cheer Leader!
Penny is the most exuberant, loving dog you'll ever meet. At 4 years old, her specialty is stealing socks, fetching and running around in nature. While you may not see Penny in the clinic, her playful spirit is always around.