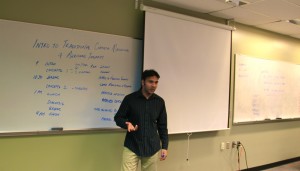 This weekend was the Intro to TCM and Meridian Therapy workshop up at Camosun College. Thank you to everyone who attended, especially to those of you who came from Campbell River, Nanaimo, and Duncan!
Last "Intro to TCM" workshop an attendee said, "That was ALL of Traditional Chinese Medicine squeezed into 2 days!" and they were right! You all did really great understanding such a massive topic!
As you would imagine, I left some details out! If you are wanting more information check out these books:
"The Web that has No Weaver" by Ted Kapchuk.This book discusses the underlying principles of TCM in a simple easy to understand language on the principles of TCM
"The Power of the 5 Elements" by Charles Moss.This book talks about the 5 elements, the personalities, and how to better understand them.
There have been several emails already about follow up courses on Qi Gong, diet, and exercises. I will keep you informed about upcoming classes. There has also been significant interest in the Okangan region so if you know of any other massage therapists in that area let them know we may be running a workshop there!
Thanks for the feedback as well, it helps us make the future courses better!
For those who attended remember that the key to understanding the principles is practice. Keep observing, reflect on your own experiences and you will see the principles will start making more sense.
~Think Vitality!~